| | |
| --- | --- |
| Name: | Ingeus UK Ltd |
| Address: | Capital House, Upper Queen Street, Belfast, Co. Antrim, BT1 6FB |
| Primary Contact | Amanda Newell |
| Email: | anewell@ingeus.co.uk |
| Telephone: | 028 9592 3000 |
| Website: | www.ingeus.co.uk |
| Contract Type(s): | Construction Build, Construction Civil Engineering, ICT, Services |
| Location(s): | East Belfast, Greater Belfast, North Belfast, South Belfast, West Belfast |
| Clause(s): | Targeted Recruitment & Training for education leavers, Targeted Recruitment & Training for people 25 years old or over and unemployed for 12 months, Targeted Recruitment & Training for people under 25 years old and unemployed for 6 months |
Ingeus UK Ltd
Capital House, Upper Queen Street, Belfast, Co. Antrim, BT1 6FB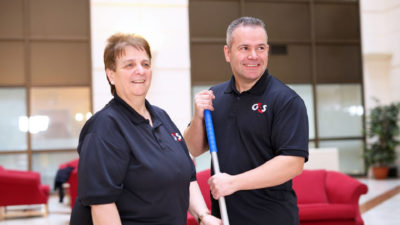 21st August 2017
Global security company G4S were awarded Lot 1 of the NI Civil Service Cleaning, Catering and Ancillary services contract in May 2016.
More Info
Ingeus NI delivers Steps to Success (S2S) – an employability programme. Ingeus is the lead contractor for S2S in the Greater Belfast area, receiving referrals directly from local JBOs. We have already assisted over 5,500 clients into employment.
Clients are supported by an Advisor who provides a personalised, tailored service. Recognising that each person will present with different challenges has allowed us to move clients further towards the labour market.