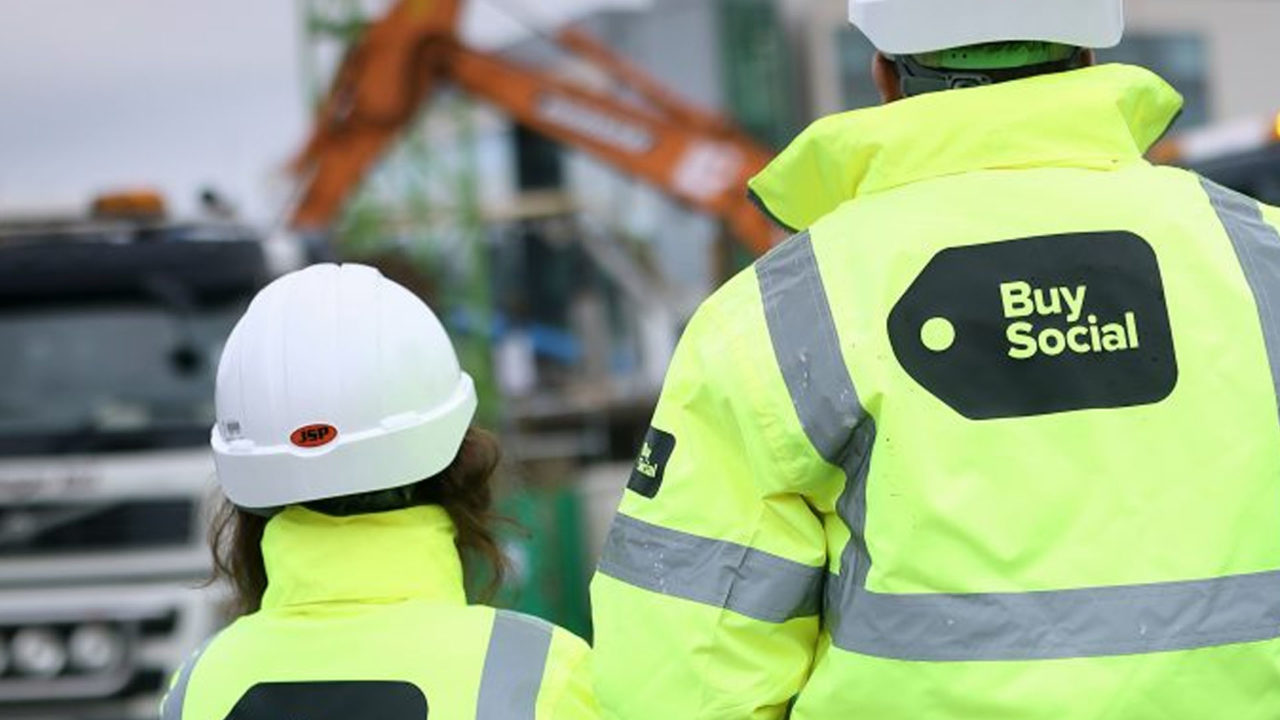 The Social Value Unit were invited to work with Colaiste Feiste school's Board of Trustees in January 2016 to add Buy Social clauses to the tender for extension works to their school in West Belfast.  Woodvale Construction were awarded the contract worth £8.9 million and work commenced in February 2016.
Buy Social is a way to maximise social and economic benefits from public purchasing contracts and involves including targeted recruitment and training clauses that require contractors to provide a proportion of the total weeks of employment created for New Entrant Trainees.
New Entrant Trainees are people who have no substantive work experience (such as school or college leavers) or people who are long-term unemployed.
After careful consideration the Social Value Unit and The Board of Trustees agreed a set of Buy Social clauses which were included in the contract specification, embedding the best practice guidance of the Buy Social model developed by the Strategic Investment Board and endorsed by the Northern Ireland Procurement Board in November 2015. The Buy Social model for construction became mandatory in April 2016.  It sets out a contractual requirement for a quantifiable number of targeted recruitment and training opportunities for New Entrant Trainees to be provided in Government construction contracts.
The inclusion of these clauses in the contract means that, the successful contractor, Woodvale Construction will provide 462 weeks of paid employment for people who are long term unemployed in/leaving  education or training for the duration of the contract which is 110 weeks.  The Social Value Unit are supporting the Board of Trustees to deliver this target through advice and the Buy Social brokerage and monitoring system.
To date Woodvale Construction Ltd have provided almost 350 person weeks of paid employment for people who are long term unemployed and those who are in/leaving education or training.  To help them deliver this target, Woodvale Construction Ltd have worked with a range of brokerage organisations, such as Springvale Employment Services and Ulster University in the recruitment of these candidates.
A representative from the Board of Trustees welcomed the opportunity to include Buy Social in the procurement and said:
"The Board of Trustees were delighted to include Buy Social requirements in the Colaiste Feirste School extension contract.  The results delivered by  Woodvale Construction Ltd to date are positive and highlight the benefit of including Buy Social clauses in procurement."
A Woodvale Construction staff member commented:
"Working with brokerage organisations has streamlined the recruitment process for us and we have been able to recruit long-term unemployed people and people in/leaving education who are work ready and keen to avail of opportunities to re-enter the workplace"
One New Entrant Trainee who has benefitted is currently completing a student placement with Woodvale as part of the Civil Engineering degree he is completing with Ulster University, as he explains:
"I have gained practical experience of being on a building site and the management side of site work, which has complimented my University studies. I would like to remain in the construction industry when I qualify as a Civil Engineer."