Buy Social: supporting care leavers into employment
The Buy Social team have met with Shannon on a few occasions on site and were keen to meet with her again after her maternity leave, to see how she has progressed working as Site Admin on the Department of Health Altnagelvin North Wing Redevelopment Project in Derry/Londonderry.
Can you tell me a bit about what you were doing before you came here?
I was in Foster care from the age of 3 to the age of 16. I finished my GCSEs in school and left school in 6th year, prior to completing my A Levels. It was at this stage I was introduced to Include Youth and they looked at different employment options for me.
At first I thought about working in retail and had a few interviews but wasn't successful. I had a training day in a clothes shop and realised that this wasn't the work for me. I then looked at working in a Care environment and had a trial for 1 day in a special needs school but again decided this wasn't for me.
I then decided to look into Administration work and 3 years ago I worked in the MDEC Building in Altnagelvin Hospital as Clerical Officer for 6 months. This was my first job and the only real work experience I have had. I left this job after 6 months to have my daughter and when my daughter reached an age where I felt I could return to work, Include Youth helped me to secure a placement through the Buy Social requirement included on Farrans' Altnagelvin North Wing Redevelopment Project.
How long have you been with Farrans?
I have been with Farrans Construction since June 2018. Farrans have been really good. They offered me the opportunity at the start of 2018 but I wasn't able to start right away due to lack of childcare. Farrans kept the position open for me until I could get childcare sorted out for my daughter. I went on maternity leave in November 2018 to have my second child and I returned back to work with Farrans in October 2019.
What do you like about your job?
I feel comfortable in what I am doing. I have a routine for the job and feel like I have been given a proper role and the responsibility to carry out tasks. I also know I have the support and help there if I need it.
What do you think you'd like to be doing this time next year?
I would still like to be doing clerical work as I feel this is what I am best at. I would potentially like to keep working in the construction industry.
Have you any plans for the future?
I would like to move into a secretarial role and build on my experience. Would like to get more experience developing filing systems on computer and other clerical systems.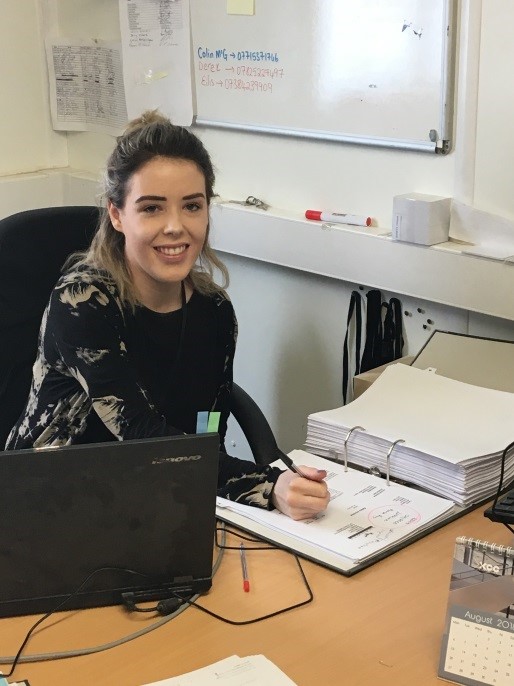 Nicola Laight, Farrans Construction, commented:
Shannon's confidence and ability has increased throughout her time with Farrans and she interacts well with everyone on the project. She has gained Office skills and IT skills to help her gain future employment. Farrans have assisted Shannon with her CV to help her build on her future career. Farrans welcomes the Buy Social approach which has helped Shannon to get experience of working on a health project of this scale in Derry/Londonderry.
CPD Health Projects commented:
CPD Health Projects are delighted to work with the Buy Social team to maximise opportunities for learning and career development on the projects we deliver in conjunction with the Health & Social Care Trusts.
The Buy Social Looked After Children targets synchronise well with on-going initiatives being developed by the Trusts, and we are especially pleased to see the successful results the targets are delivering for the young people employed through the projects.
Mentioned in this Case Study