Buy Social brings ExternWorks on site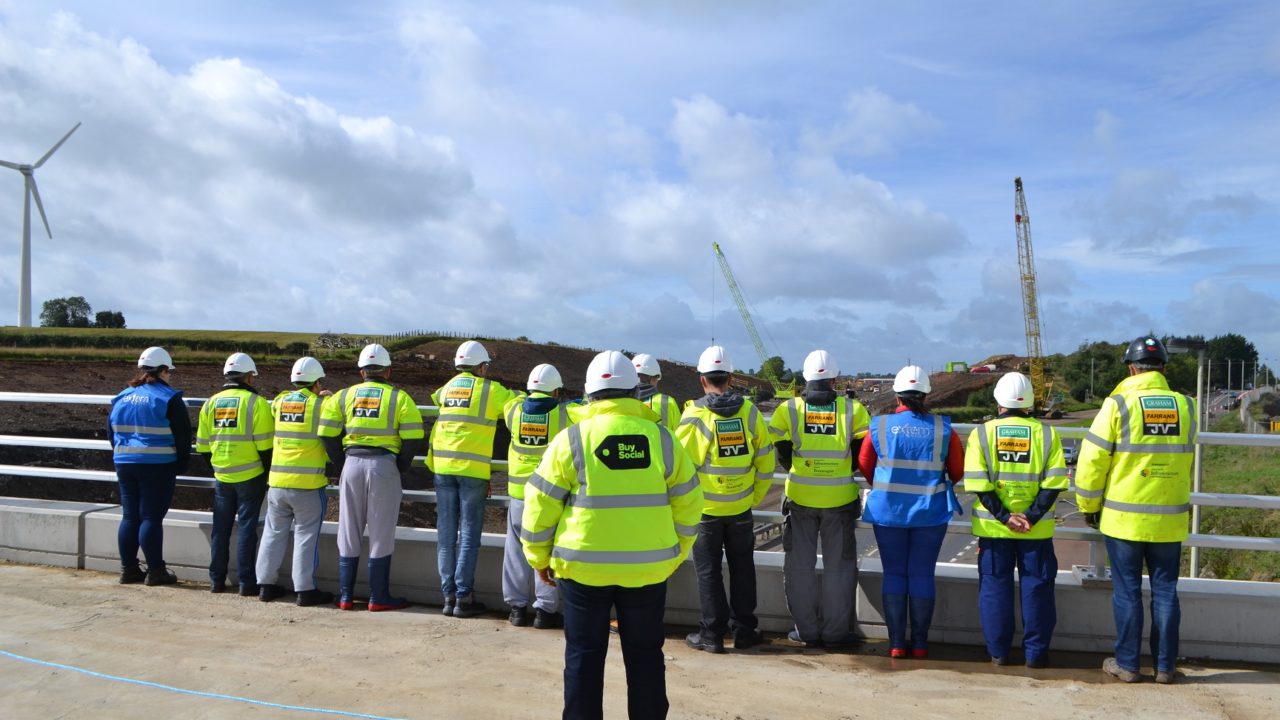 In September 2018, ten men from the ExternWorks programme were welcomed on to Graham/Farrans' A6 Dualling site to learn about careers in the construction industry.  The A6 road project includes Buy Social clauses which require the contractor to deliver social value as part of the contract.  Buy Social introduced ExternWorks to the contruction company, and worked with both organisations to arrange the site visit.  Buy Social initiated the visit to encourage partnership working, to support people who are furthest removed from the labour market and showcase the variety of career paths available in construction.
ExternWorks support people who are unemployed and who may come from a disadvantaged background.  The programme is part-funded through the Northern Ireland European Social Fund Programme 2014-2020 and Department for the Economy.  It provides a range of training to adults who are unable to access mainstream provision due to their previous or current offending backgrounds, homelessness, learning disability or poor mental health.
The men involved with ExternWorks were keen to take part in the Graham/Farrans Joint Venture site visit, with one saying that it was a "great opportunity and fantastic to see the willingness of such a large company opening their doors to offer employment to those who find it harder."
Vicki Johnston, Public Liaison Officer at Graham/Farrans, coordinated the visit and led the tour, showing the group how the project will upgrade 14.7 kilometres of the A6 between Randalstown and Castledawson.  The group were shown the new bridges being built, Borrow Pit areas that process rocks to be crushed and reused in the road, and the animal access being planned for farm animals and wildlife.
Feedback from the visit was very positive with participants reporting that they learnt a lot of new things and were interested in finding out more.  One young man said it was an "amazing tour of how civil engineering jobs operate.  Opened my eyes to a good career in plant machinery driving jobs and all the other jobs involved.  Want to find out more information.  Amazing host Vicki and very helpful."
Buy Social is now working to support both organisations to strengthen their partnership and work towards creating employment opportunities for ExternWorks participants.
Mentioned in this Case Study