Altnagelvin North Wing Redevelopment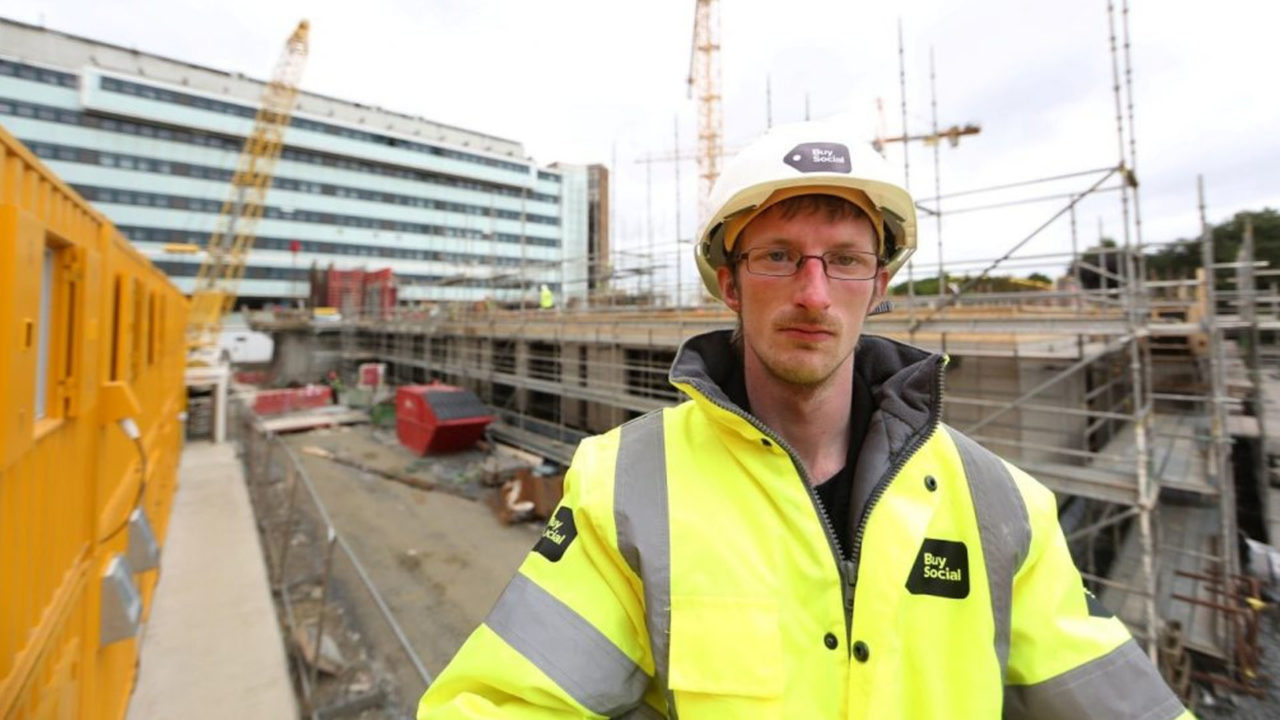 The Social Value Unit worked with the Department of Health to develop a set of Buy Social clauses for the Altnagelvin North Wing Redevelopment Hospital Project.  The Social Value Unit and the Department of Health agreed a set of Buy Social clauses that require the successful contractor, Farrans to provide 1664 person weeks employment for individuals who are long term unemployed, participating in or about to leave education or training over the 3 year duration of the contract.
Buy Social is a way to maximise social and economic benefits from public purchasing contracts and involves including targeted recruitment and training clauses that require contractors to provide a proportion of the total weeks of employment created for people who are New Entrant Trainees.  New Entrant Trainees are people who have no substantive work experience (such as school or college leavers) or people who are long-term unemployed.
One New Entrant Trainee who has benefited from the clauses on the contract so far is Sean who has been supported by Mencap Employment services in Derry~Londonderry for a number of years and whilst he has had several paid positions, unfortunately he has been unemployed since redundancy from his last job in December 2015.  Since then Sean has remained enthusiastic and dedicated to finding a job and is delighted to have been successful in gaining employment with Farrans Construction in April 2017 on their site at Altnagelvin Hospital.
Getting a job on his own merits has not only rewarded Sean's dedication to seeking work, but also proven that with the appropriate support, individuals can meet their full potential and gain long term meaningful employment.
"I was surprised and delighted when they rang to offer me the job.  I value this opportunity and am really enjoying working for Farrans.  They provided me with a full uniform and set out a schedule for me.  The team I work alongside are all friendly and have made me feel welcome from the start.  I finally got my chance!"
Sean will continue to be supported by Mencap through the Workable (NI) Programme (funded by the Department for Communities). This flexible employment programme supports both the employer and the employee, helping people to find paid work and keep their jobs.  Although Sean has only started his work at Farrans, both Mencap and Farrans have worked very closely with Sean, to identify how to enable him to carry out his work and develop his skills and confidence in his role.
Farrans said:
"At Farrans we recognise and accept the importance of investing in the local communities in which we operate. We reach out to those with a learning disability to ensure that they are valued equally and as such we have given Sean from Mencap, an opportunity to join the Farrans team on our Altnagelvin North Wing Redevelopment Hospital Project.  We will continue to work in partnership with Mencap, providing employability skills training and offering structured work experience, to bring real change to people with a learning disability".
Brigid McGuigan, Community Engagement Manager, Farrans Construction.
Mencap who have supported Sean to find employment said:
"It is a pleasure working with Sean.  He is a hardworking, well-mannered young man who tries his best in work. Despite the setback of losing his job, Sean remained very determined to secure paid employment. I am so pleased that he has managed to secure a new position and I look forward to continuing his support through the Workable (NI) Programme and developing our working partnership with Farrans in their construction site in Altnagelvin hospital."
Liz Surman, Mencap Employment Officer.
For more information on Buy Social please visit www.buysocialni.org